Thought I Knew You by Kate Moretti (Review)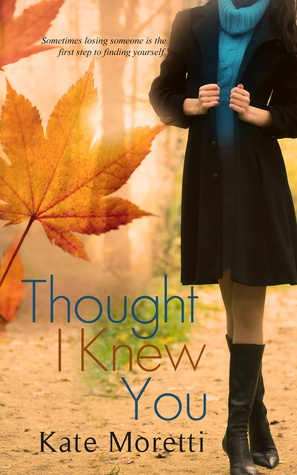 Get your copy:
Thought I Knew You
by
Kate Moretti
My rating:
2 of 5 stars
I was hesitant to read Thought I Knew You so closely on the heels of
The Last Thing He Told Me
as they share such a similar premise: husband disappears and wife must find him. However, I was drawn into the cover and also the fact that it was the end of the month and Scribd has nothing else to offer me.
I wish I'd listened to my gut and refrained.
Claire Barnes' husband Greg disappears while on a business trip and leaves no trace. When the police investigation turns up nothing, Claire decides to go looking for him herself. While she discovers a couple of things the police missed, everything leads to a dead end. Claire continues to meet with a detective on a regular basis to get updates about the case, but few new details emerge.
This continues for about two years, during which Claire has to learn to move on, both for her sake and for that of her two young daughters. She does this with the help of her best friend, Drew, with whom she's secretly been in love for most of her life.
I found it really hard to engage with this story, which was partially because of the storytelling and partially because I didn't jive with the audiobook reader's style. I wanted it to be more of a thriller a la The Last Thing He Told Me, where the heroine goes on a mission and discovers new secrets around every corner. But instead, Claire basically sits at home for two years and chronicles her emotions and mundane activities as she gets used to this new life.
Trying to fit two years of this turmoil into a novel probably didn't do the storyline any favours. I understand that, as a loving wife, Claire needed to let a reasonable amount of time pass before she moved on. However, I wish the story had been about more than just how she moved on. I wanted her husband's disappearance to be a mystery and the pursuit of answers to take me on an emotional rollercoaster, and that just didn't happen.
We do eventually find out the truth about Greg, but for me, it was too little too late.
View all my reviews
I'm Sophie. I'm a writer, homeschooling mama, and recovering overachiever. I get by on good books, chocolate, and just enough sleep.
Introduce yourself in the comments below and tell me what kind of books you love to read.