Malibu Rising, by Taylor Jenkins Reid (Review)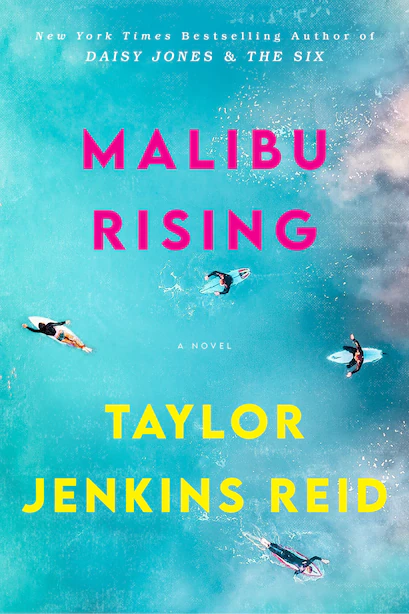 Get your copy:
Disclosure: This post may contain affiliate links, which means I may receive a commission if you click a link and purchase something that I have recommended. Please read my disclaimer for more details.
Malibu Rising
by
Taylor Jenkins Reid
My rating:
3 of 5 stars
Every time I went to the bookstore in the latter half of 2021, Malibu Rising by Taylor Jenkins Reid called out to me from the display shelves. It was, and probably still is, prominently displayed in all the "hot new collections." My Bookstagram feed, likewise, was filled with a blue wave of Malibu Rising covers.
And yet, every time I picked it up to read the jacket blurb, I put it right back down again. Why would I want to read about a celebrity-filled beach party in 1983? My historical fiction tastes tend to be limited to 1920-1945, and I rarely venture outside of that comfort zone. The decade in which I was born holds little appeal to me.
But alas, literary beggars can't be choosers, and the available supply of new women's fiction audiobooks had dried up again, so when Malibu Risin became available in my library's cloud reader, I gave it a shot.
And though I'm still not keen to read books set in the eighties, I don't regret picking this one up.
I listened to the audiobook, which was narrated by Julie Whelan, and she does a phenomenal job. Her voices are excellent, distinct, believable, and passionate. Hearing her read the book heightened the experience for me.
Malibu Rising tells the story of the Riva family in two timelines. In the current timeline, it's the end of summer of 1983, and the Riva siblings–Nina, Jay, Hud, and Kit, who range in age from 20 to 25, are preparing for the annual Riva party, an infamous blowout at Nina's Malibu mansion that attracts celebrities and beach bums alike.
In the historical timeline, we see the progression of the relationship between the four siblings' parents, June and Mick, over the preceding 25 years and everything that led up to the events of this seminal night.
I was drawn more to the historical timeline. You really get to see June and Mick's story more intimately than you do in the current timeline where we're following four characters who all have different things going on. The historical story is rooted in June's hopes for the future. She wants to elevate her station in life, to move on from running the humble restaurant her parents own on Malibu Beach, and do something that she sees as more meaningful and important.
She meets Mick, a young, aspiring singer who wants to do really big things. He paints a picture of the beautiful life they're going to have together with the big house and the two sinks in the ensuite and all the kids that she wants. And June, who's 17, eats it right up. As their relationship progresses, he launches his career, and we get to see the impact of his choices on June and his family over a lifetime.
In contrast, the current period gives us a snapshot of one day in the life of the adult Riva siblings. If you've read any of my reviews, you know, I am not into steamy stuff. I don't want to know what people are doing in their bedrooms or in their trucks or in their Airstreams. I just don't need to know. I'm fine if they're doing it, but I'd rather if the author either left me outside the door or only share the emotional aspect of it with me. I don't want to know all the nitty-gritty details.
Unfortunately, this book was packed with nitty-gritty details, so there were quite a few scenes in this book that I did have to skip over. So, just a heads-up–if you like to stay out of other people's business, you'll want to have your finger close to the fast forward button or be ready to skip a few pages.
To me, the most intriguing thing about this novel is to see how a family's generational trauma plays out in the lives and decisions of the protagonists. It's fascinating to see the parents' relationship, all the hopes the mom had for the future, and everything that goes wrong in the marriage, and how those things acutely work their way into the lives of the children.
I don't know how realistic those portrayals were in Malibu Rising. It seemed to me that the kids actually fared fairly well considering everything that they had been through. They seem to have strong relationships with each other, high moral ethics, a deep sense of loyalty. They make mistakes, but they feel terrible and try to own up to them. And they're all trying to do what they think is right.
I sort of expected them to be more messed up given what they've gone through. But I enjoyed seeing how Nina, the oldest child, had to become the parent figure quite young and take on parental duties, and how that comes out in how she's still trying to look after her siblings, how she's trying to deal with her own failing marriage and, and her stance towards her father.
I was not very emotionally invested in the book until the very end, which was handled well. One part, in particular, stuck out for me. Nina is forced to confront her past, and she talks about how our parents and the people who came before us hand us a metaphorical box. And it's kind of like our inheritance. The box is full of emotions and baggage, dreams and hopes, stories and traits, and all of these things they've passed on to us.
And it isn't our job to carry all of these things forward with us into our own lives. It's our job to sort through this box and decide what we're taking forward with us and what we're going to let go of. And I just really liked that. It was worth it for me to read the book just to get that message.
Overall, it's a fun book. The plot is not incredibly original or exciting, but it does its job. It's entertaining, it welcomes us into the world of a cast of characters whom we come to care about, and it delivers a powerful emotional punch.
I'm giving this three and a half stars, rounded down to a three, just because I did have to skip so many scenes. If it had been a little bit cleaner, I would have rounded up to a four.
This is the first book I've read by Taylor Jenkins Reid, who has actually written several very popular books, so I'm looking forward to checking out some more of her work.
View all my reviews
Want more? Check out some other books I've enjoyed
I'm Sophie. I'm a writer, homeschooling mama, and recovering overachiever. I get by on good books, chocolate, and just enough sleep.
Introduce yourself in the comments below and tell me what kind of books you love to read.